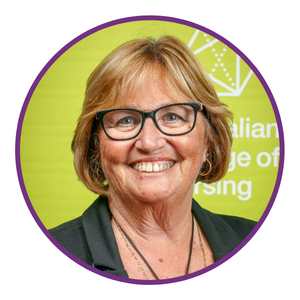 Ms Linda Davidson
Linda is a Registered Nurse/Midwife with more than 48 years of experience and is a Fellow of the Australian College of Nursing (ACN). Linda's experience is in Tertiary Quaternary, Teaching, Major Metropolitan, Regional, District and Rural services.
Over the last 30 years, Linda has worked in senior nursing/executive leadership roles across New South Wales and Victoria. She has completed tertiary studies and holds a Degree in Health Management with UNE and a Masters Health Service Management with UTS. Linda has led many initiatives and changes during her career.
Linda is currently in the role of National Director for Professional Practice with ACN and holds the portfolio for Policy & Advocacy, Professional Engagement, and the Institute of Leadership.
Linda believes in the power and influence of the nursing profession as a leader in the health care team and the 'voice for the patient'. Linda also promotes nursing's power and value in determining and influencing the current and future agendas of healthcare across Australia.